Oyster Farm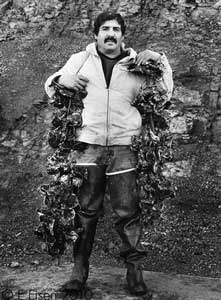 The Oysterman
Photographs of the Drakes Bay Oyster Company
This series documents the final year of the Drakes Bay Oyster Company, the last operating oyster cannery in California. The oyster farm, located in the Point Reyes National Seashore near my home, was operated by lease agreement with the National Park Service.
When it was announced that the lease would not be renewed, disputes over environmental philosophies and concepts of wilderness erupted. Opposing views bitterly divided the rural community in which the oyster farm was located.
I wanted to put a human face on these controversies and made photographs of the daily activities at the farm and created portraits of the immigrant workers whose jobs and homes were threatened.
Legal issues were debated at local, state, and national levels. The US Supreme Court finally denied a hearing of the case and the farm was ordered to close. I returned to photograph the deserted site before its demolition.
For information about photographs and exhibits contact
evvyeisen@yahoo.com